Rather than going after criminals stealing cars, the city of Milwaukee is the latest to go after carmakers.
This week, Milwaukee Common Council approved retaining outside counsel to sue Kia/Hyundai over rampant thefts of the vehicles. City Attorney Tearman Spencer made the announcement Wednesday, according to FOX6. 
The resolution by Alderwoman Milele Coggs and Alderman Khalif Rainey that was approved allows the city to retain outside counsel "for the purpose of pursuing all potential remedies for damages suffered by the City of Milwaukee as a result of nuisance levels of automobile theft." 
The council members blame the manufacturers for making vehicles without anti-theft systems. As a result, city leaders say stolen cars are involved in crashes, and the city's reputation has suffered.
WISCONSIN CITY LOOKS TO SUE KIA, HYUNDAI OVER SURGE IN VEHICLE THEFTS
Milwaukee police told FOX6 that 373 Kias and 304 Hyundais have been reported stolen so far this year, leading the city attorney to call the city "ground zero" when it comes to the thefts of the vehicles. 
"In my estimation, all the problems emanated in Milwaukee, the epicenter of the cause and problems that we've been experiencing," Spencer said. He added that it is unclear how much money the city cold get if the lawsuit were successful.
KIA, HYUNDAI ROLL OUT NEW ANTI-THEFT SOFTWARE UPGRADE
"As long as you live in the city of Milwaukee and pay taxes, you have standing," Spencer said. "You have damages from MPD having to respond, fire having to respond."  
Earlier this month, the city of Madison's Common Council approved moving forward with its own lawsuit against the South Korean automakers after a social media challenge exposed their vulnerability and led to a spike in stolen cars, according to Wisconsin Public Radio.
The city said in a press release that in the summer of 2022, thefts of Kia and Hyundai vehicles in Madison soared by 270% from the summer before and accounted for more than half the total vehicle thefts in the city between July and August.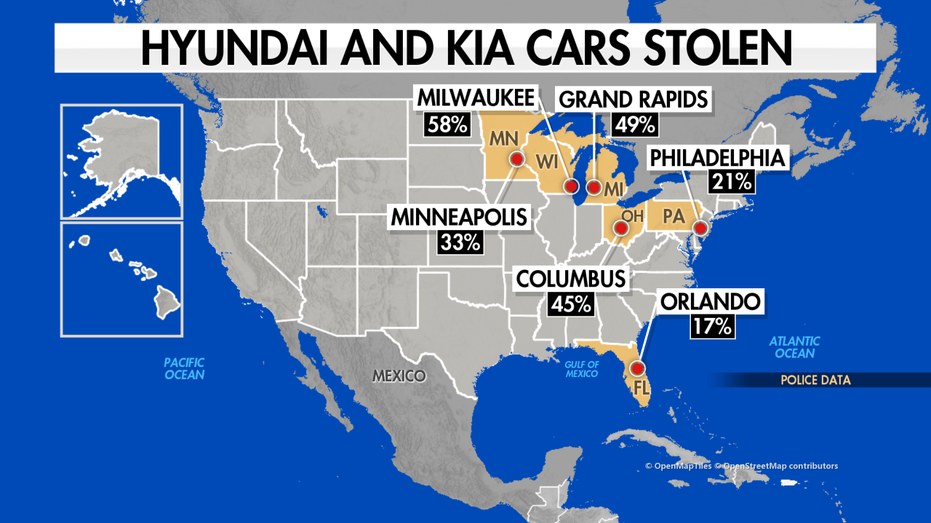 Several cities sounded the alarm last year over thefts of the vehicles after videos on TikTok demonstrated how the ignition systems in mainly 2011-12 Kias and 2015-21 Hyundais with physical keys could be easily hacked using a screwdriver, pliers or the end of a USB cable because the vehicles are not equipped with immobilizers that require the presence of a key fob with a transponder to work.
In February, Kia and Hyundai both announced that they were rolling out new anti-theft software upgrades for the impacted models, in an effort to curb their thefts.
"Owner satisfaction and confidence is paramount at Kia, and we have been working hard with our engineers to develop this software update," a spokesperson told FOX Business in a statement at the time. "Now we look to owners to schedule a short visit to their dealer for the process and help make a big impact on this unfortunate crime wave."
Fox Business' Breck Dumas contributed to this report. 
Read the full article here