Democratic Chicago Mayor Brandon Johnson is facing opposition from local leaders after he asked that "all 50 city council members" find space in their wards to help house "more than 200 migrants" in tents, according to a new report.
But some aldermen are pushing back on Johnson's plans
"I've looked in my ward. I just don't have any available space. I have one of the most dense wards in the city," Alderman Brian Hopkins said, according to ABC7 Chicago. 
MASS. MAYOR CALLS TO CHANGE STATE'S 'RIGHT-TO-SHELTER' LAW AMID MIGRANT CRISIS: 'DON'T HAVE ENDLESS CAPACITY'
Alderman David Moore of the 17th Ward called on Chicago to help its own community first. 
"I'm a believer in help your people first, help yourselves first, help your community first. Then, reach out and help others," Moore said.
But some aldermen have also voiced support for Johnson's plan to house migrants.
"I think what should be made clear is because of the scale we are looking at, everyone needs to share in the responsibility," Immigrant and Refugee Rights Committee Chairman Alderman Andre Vasquez said. 
BORDER PATROL UNION HEAD SAYS REPORTED BIDEN PLAN TO KEEP MIGRANTS IN TEXAS WON'T HELP AGENTS: 'MORE RHETORIC'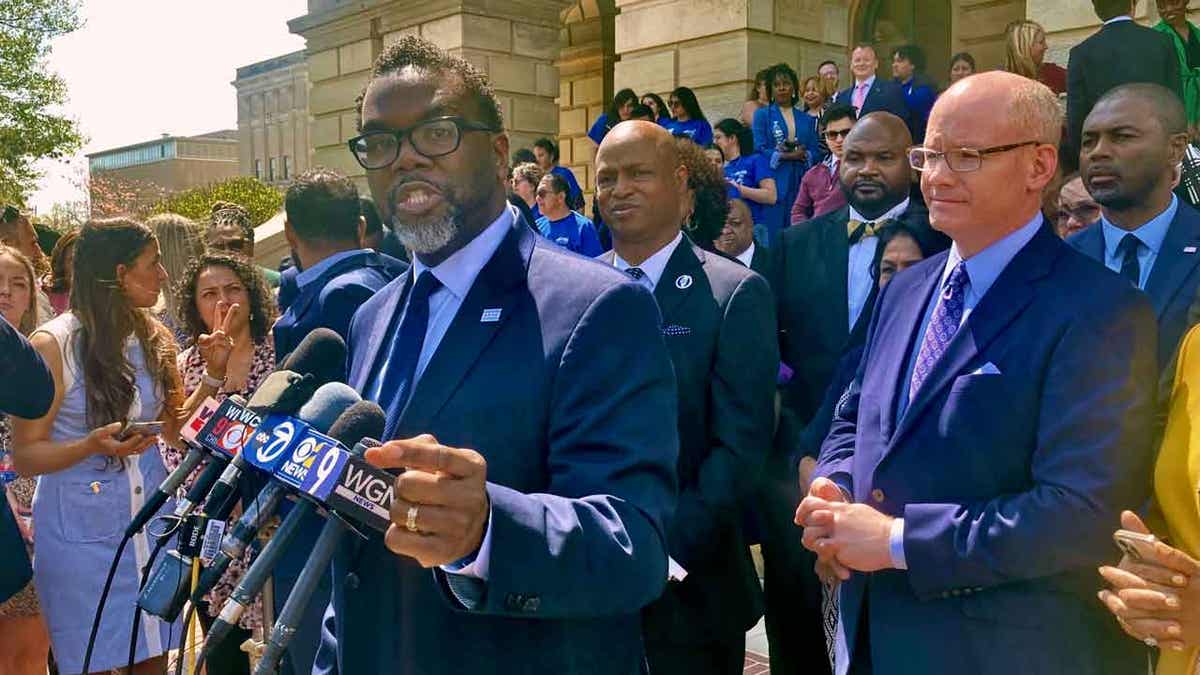 Vasquez argued Johnson's tent plan would help the entire city of Chicago. 
"If you can make that case, then you can say this isn't just for one population. It's something that helps the whole city out," Vasquez said.
Johnson has announced he wants to relocate the city's nearly 1,600 asylum-seeking migrants, currently living in police stations, to winterized camps with big tents before cold weather hits. 
Each of the massive tents will be able to hold up to 1,000 migrants, the mayor said, and under his plan the camps will provide meals as well as recreational and educational programming. Currently, 16 shelters in the city house 13,500 migrants, and more arrive every day.
The Chicago Sun-Times reported the cost to shelter the 13,500 migrants costs the city about $30 million per month.
Johnson and his administration are working with the State of Illinois and Cook County to establish more shelters to take some of the pressure off Chicago, the mayor said.
"These families are coming to the city of Chicago," Johnson said. "If we do not create an infrastructure where we're able to support and, quite frankly, contain these individuals who have experienced a great deal of harm, individuals who are desperate… that type of desperation will lead to chaos." 
Johnson's office did not immediately respond to a request for comment. 
For more Culture, Media, Education, Opinion, and channel coverage, visit foxnews.com/media
Fox News' Greg Wehner contributed to this report.
Read the full article here