Former Director of National Intelligence and former United States Representative John Ratcliffe expressed his concerns about the relationship between China and Russia. In an interview with "Sunday Night in America" host Trey Gowdy, Ratcliffe stated that the closeness between the two countries is more than just rhetoric and that the world "should be concerned."
"The union that [China and Russia] are talking about and the way they're openly talking about a new world order and moving around the map, you see a real shift taking place. You see a shift in how China is treating the U.S., how Russia is treating the U.S., how their allies like Iran are treating the U.S. and by that I mean disrespecting the U.S.," Ratcliffe said.
Ratcliffe also highlighted the shift in other countries' attitudes towards the U.S., with Saudi Arabia choosing to make a deal with Iran brokered by China "instead of joining the Abraham Accords," and India increasing "trade with Russia by 300% since the start of the Russian invasion into Ukraine." He emphasized that the public flaunting of their relationship by Chinese President Xi and Russian President Putin is sending a message to the rest of the world that they are the ascending powers and the U.S. is a declining power.
CHINA DENIES HIDDEN MOTIVES AFTER BROKERING TALKS BETWEEN SAUDI ARABIA, IRAN
Ratcliffe added, "President Xi and President Putin are basically very publicly flaunting their relationship and telling the rest of the world: Bet on us."
Gowdy highlighted an interview between House Foreign Affairs Committee Chairman Rep. Michael McCaul, R-Texas and "Fox News Sunday" host Shannon Bream, where Congressman McCaul drew a link between the "feckless withdrawal from Afghanistan" and the U.S.'s "decreased presence on the world stage." Ratcliffe told Gowdy, he agreed with McCaul's assessment, stating that China, Russia, and Iran saw weakness in the U.S. as a result of the Afghanistan withdrawal and are likely to "test the Biden administration."
BIDEN ON BACK FOOT AS IRAN PROXIES HIT US TROOPS IN SYRIA, CAN 'EXPECT MORE, NOT LESS ATTACKS'
Ratcliffe also highlighted the importance of projecting strength rather than weakness, citing the Trump administration's response to the killing of a U.S. contractor in January 2020.
"If you look back three years ago, the same circumstance when there was a U.S. contractor killed in January 2020, our response in the Trump administration wasn't to take out a handful of Iranian soldiers. It was to take out the head of the Iranian terror network. It was to take out Iranian Quds Force Commander Qasem Soleimani, and it was delivered with the message: 'Today we took Soleimani but if these types of attacks continue, we're coming for the Supreme Leader next,' and that worked Trey. We saw a precipitous drop in those types of attacks until January 2021," Rafliffe said.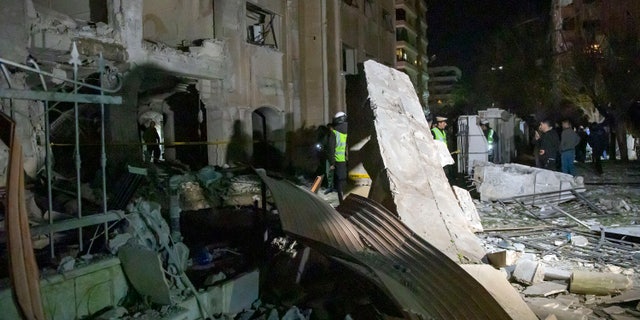 Ratcliffe's urged the Biden administration to project strength and deter its emboldened adversaries.
Read the full article here