"Libs of TikTok" creator Chaya Raichik attempted to confront Rep. Alexandria Ocasio-Cortez, D-N.Y.'s at her Capitol Hill office on Thursday to ask her why she had "lied about her on the House floor."
The creator behind the popular social media account said the Democrat misled the public during a February 8 hearing when she claimed that Raichik was lying about Boston Children's Hospital providing hysterectomies to children.
"A few weeks ago, AOC lied about me on the House floor," Raichik says in a video tweet shared by The Heritage Foundation.
LIBS OF TIK TOK'S NYC BOOK EVENT FOR KIDS CANCELED AFTER RECEIVING THREATS OF 'UNSAFE BEHAVIOR'
During the February hearing, the Democrat accused Raichik's account of "posting false information about Boston Children's Hospital," last August, "claiming that they were providing hysterectomies to children."
Raichik's Libs of TikTok put the children's hospital in the spotlight when she shared videos from the hospital's YouTube account where doctors at the hospital said they were offering "gender-affirming hysterectomies" to young girls.
Appearing on the steps of the Cannon Building this week, Raichik said she wanted to ask the congresswoman "why she lied about me" and "get some answers."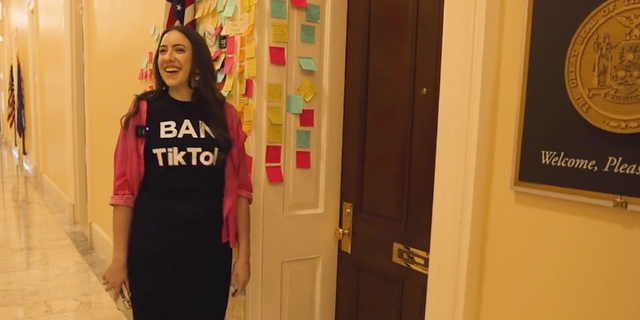 But when Raichik knocked on the Democrat's office door, a staff member said she wasn't there.
The aide also denied Raichik's request to speak to a staff member about the Democrat's tech policy.
"No. Do you need a card?" the aide asks. In the video the congresswoman's door appears to be covered in colored Post-it Note messages.
Raichik told the aide she was there to confront Ocasio-Cortez for "lying" about her a couple of weeks ago on the House floor. The aide looks to the camera and asks if they are recording before saying "Gimme one second" and shutting the door in haste.
In the video, Raichik then commented she doesn't believe they will get answers that day.
"I don't think we're going to get to talk with her. I don't know if she's in or not but i think that door slam was really telling," she said. "I don't think they want to talk to us."
FORMER TWITTER SAFETY CHIEF: 'REGRETTABLY' LIBS OF TIKTOK ACCOUNT REMAINS ON PLATFORM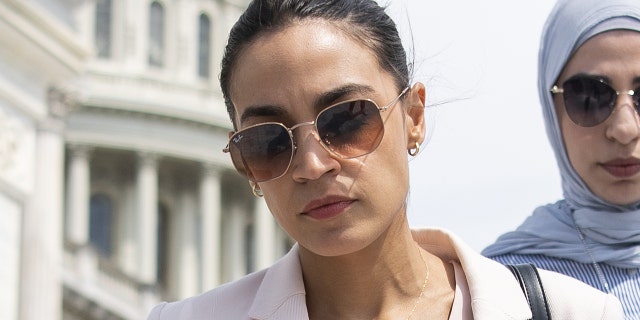 Raichik then left a tongue-in-cheek note for the Democrat.
"Dear AOC. Please don't lie about American citizens. Love Chaya," she wrote on the Post-it.
Fox News Digital reached out to Rep. Ocasio-Cortez's office for comment but did not immediately hear back.


Read the full article here