Four people have been confirmed dead following an explosion Friday at a Pennsylvania chocolate factory, and three remain unaccounted for.
Firefighters responded to R.M. Palmer Company in Berks County, Pennsylvania, at approximately 5 p.m. on Friday, March 24, after reports of an explosion and a multi-alarm fire. 
The blast caused significant destruction, leveling R.M. Palmer's Building 2 and causing damage to Building 1. Investigators are still working to determine what caused the blast, according to FOX 29. 
Three people are still missing after officials say a fourth person was found dead at the site of the explosion early Sunday morning. 
EXPLOSION AT R.M. PALMER CHOCOLATE FACTORY IN PENNSYLVANIA LEAVES 3 DEAD, COMPANY OFFERS CONDOLENCES
On Saturday morning, officials said there was "a sign of hope" after one person was found alive among the rubble of the deadly blast.
A UGI Utilities spokesman said crews were brought in after damage from the blast led to the release of gas that was helping to feed the fire.
"We did not receive any calls regarding a gas leak or gas order prior to the incident. But we are cooperating with the investigation and part of that will be to check all our facilities in the vicinity," UGI spokesman Joseph Swope said Saturday.
Plant employees had complained about smelling gas throughout the day Friday, according to Frank DeJesus, whose stepdaughter was working in the building next door at the time of the blast. 
EXPLOSION AT R.M. PALMER CHOCOLATE FACTORY IN PENNSYLVANIA LEAVES 2 DEAD, OTHERS MISSING AND INJURED
Pennsylvania Gov. Josh Shapiro visited the explosion site Saturday, pledging resources for first responders to continue the rescue effort.
"Our hearts break for the families of those who didn't come home … We are with you – and my administration is here to provide all the resources and support West Reading needs," Gov. Shapiro said.  
R.M. Palmer's website says it has been making chocolate novelties since 1948 and now has 850 employees at its West Reading headquarters. Its Facebook page includes entries earlier this month advertising Easter treats such as chocolate bunnies and "the newest milk chocolate hollow" in its "bunny family" as one with jelly beans inside. The company is by no means the region's best-known chocolate manufacturer, however, with Hershey less than an hour to the west.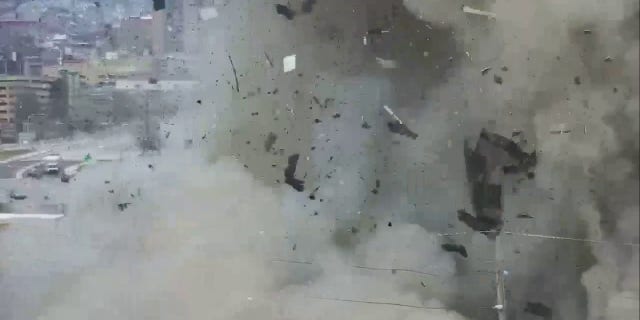 The company has set up a hotline to provide support for families. That number is 610-374-5224 extension 539.
Fox News' Sarah Rumpf, Elizabeth Pritchett and the Associated Press contributed to this report.
Read the full article here