FIRST ON FOX: Hunter Biden's former business partner, John Robinson "Rob" Walker, appears to have visited the White House at least 16 times when President Biden was vice president.
Walker's name resurfaced a couple of weeks ago when House Oversight Committee Republicans said they obtained records showing members of the Biden family received more than $1 million in payments from accounts related to Walker and their Chinese business ventures in 2017.
Committee Chairman James Comer, R-Ky., obtained the records after subpoenaing Bank of America, which revealed that "at least three family members" received lucrative payments from a bank account belonging to Walker, who worked with Hunter, President Biden's brother Jim, their business associate James Gilliar and Tony Bobulinksi in a failed joint-venture called Sinohawk Holdings, which was meant to be a partnership with now-bankrupt energy firm CEFC, a Chinese Communist Party-linked company
According to a committee memo, "Biden family members and their companies began receiving incremental payments over a period of approximately three months" from Walker.
TOP TIKTOK LOBBYIST PREVIOUSLY ADVISED TECH EQUITY FIRM WITH CLOSE TIES TO HUNTER BIDEN
"In the beginning, the White House denied having any knowledge or the fact that their family was involved in any sort of way, shape or form with the CCP. But now we have bank records that reveal otherwise," Rep. Comer told host Maria Bartiromo on Sunday. "We don't know what the Bidens did in return for this money. The lawyer said that it was seed capital for a business. We haven't been able to find a business. Right now it looks like the Biden family just pocketed this money."
According to visitor logs reviewed by Fox News Digital, John R. Walker, a former Clinton administration official and husband of Betsy Massey Walker, who was a top aide to then-second lady Jill Biden, was listed visiting the White House twice in 2009, five times in 2011, four times in 2012, twice in 2013 and once in 2014, 2015 and 2016.
Fox News Digital reached out to the White House multiple times seeking confirmation with over a dozen dates that show a John R. Walker visiting the White House during the Obama-Biden administration, but they did not respond.
On May 13, 2011, Walker is listed as visiting the White House to meet with David Lane, then-President Obama's assistant and Counselor to his chief of staff. A Fox News Digital review also found that Lane is a longtime associate of Walker, Hunter Biden, and Hunter's longtime business partner Eric Schwerin, who visited the White House during the Obama-Biden administration at least 27 times respectively.
Two days before Walker met with Lane at the White House, Hunter invited Lane to a BBQ at his house, prompting Lane to reply, "Looking forward to it, Hunter. See you soon."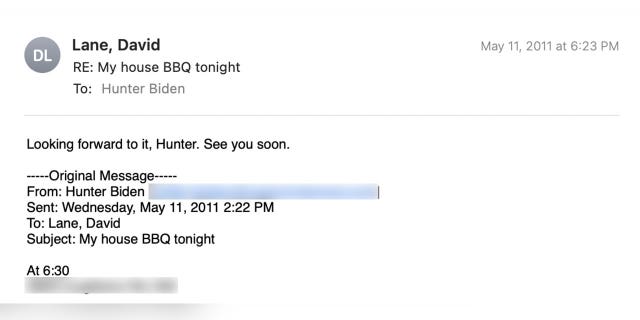 Fox News Digital inquired about the nature of the meeting and whether there were discussions at the BBQ about the upcoming White House meeting, but Lane did not respond. Walker and his wife also did not respond to requests for comment.
The following year, Schwerin floated Lane's name in an email to Hunter Biden as a potential reference for Rosemont Seneca Technology Partners (RSTP), an affiliate of Hunter's now-dissolved Rosemont Seneca Partners, to use for prospective clients when they practice their due diligence. In a July 2012 email from John DeLoche, one of the RSTP partners, to Walker, Schwerin, and Hunter, he says, "One thing that is important on which we could be stronger in this list is references from formerly or sitting elected officials to show depth of Washington relationships. For example, having a name like John Kerry on this list is fantastic."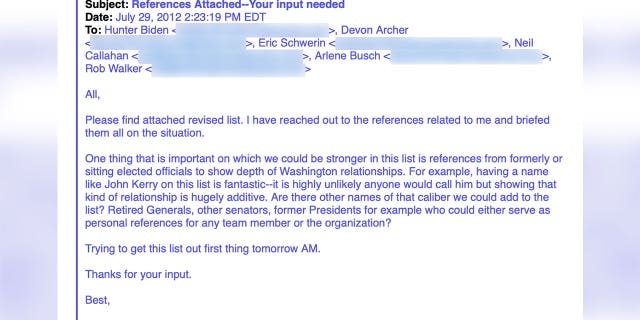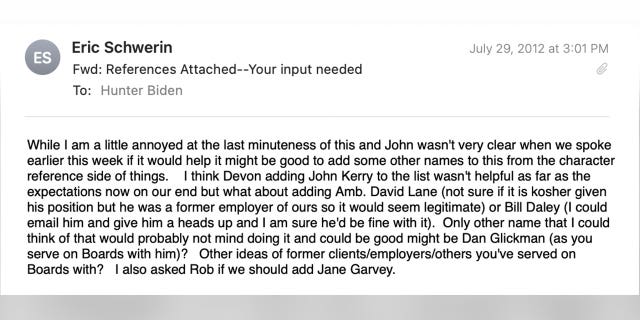 "I think Devon [Archer] adding John Kerry to the list wasn't helpful as far as the expectations now on our end but what about adding Amb. David Lane (not sure if it is kosher given his position but he was a former employer of ours so it would seem legitimate)," Schwerin told Hunter, appearing to refer to the Department of Commerce, where they both likely met Lane in the late 1990's under then-President Clinton.
Walker, who acknowledged in a 2017 email that he has been "acting as a surrogate for H[unter] around the country and abroad pursuing opportunities" would go on to email a list of references to the group email, including Lane and saying Lane would be a reference for Walker, Schwerin, and Hunter. It is unclear whether Lane, who was just sworn in less than two weeks earlier as Obama's U.S. Ambassador to the U.N. Agencies for Food and Agriculture, fielded any calls on their behalf vouching for them.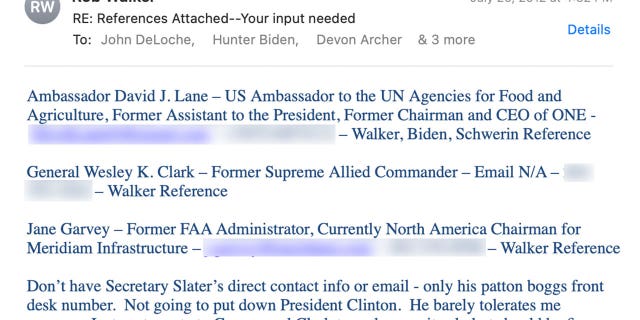 In addition to the White House visit with Lane, seven of the visits were listed as tours of the White House grounds, and two of the visits have no reason listed. Other potential visits included attending a holiday reception on December 2009, a reception at the Executive Office of the President (EOP) in December 2013, and attending what appeared to be the July Fourth celebrations on the South Lawn in July 2011 and 2014. The White House official associated with the July 2011 visit appears to be Ashley Williams, who has served in multiple roles in the Biden and Obama administrations.
INVESTMENT FIRM OF FORMER OBAMA-BIDEN OFFICIALS HOSTED MULTIPLE CCP-TIED COMPANIES AT 2015 LUNCHEON
Months later, in October 2011, Walker attended a staff dinner at Joe Biden's vice presidential residence (VPR), according to the visitor logs. Emails from Hunter Biden's infamous abandoned laptop show that Walker's wife worked for the Office of the Vice President as second lady Jill Biden's personal aide until at least 2013 based on her government email being used. First Lady Jill Biden lists Walker's name in her 2019 book.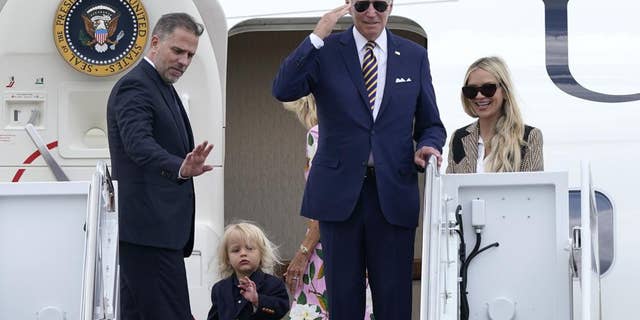 The revelations come after House Oversight Committee Republicans demanded Walker give a transcribed interview after they say they obtained records through a subpoena of Bank of America that a bank account belonging to Walker and his company Robinson Walker LLC received $3 million from State Energy HK Limited, which was affiliated with CEFC. The Republicans said Walker then paid out more than $1 million to Hunter, James Biden and Hallie Biden, the widow of President Biden's son Beau who was romantically involved with Hunter.
When confronted about the bank records by a reporter on the White House lawn May 17, President Biden denied that the payments were made.
"That's not true," the president said.
Hunter's legal team accused Republicans of pushing a "baseless right-wing conspiracy theory" with a spokesperson stating the capital was part of "good faith seed funds."
"Here we go again as Rep. Comer takes something old and tries to make it new by wrapping it in a wild and baseless right-wing conspiracy," a spokesperson for Hunter Biden's legal team said.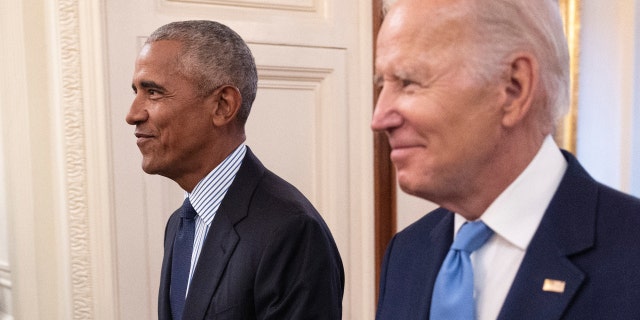 "Hunter Biden, a private citizen with every right to pursue his own business endeavors, joined several business partners in seeking a joint venture with a privately-owned, legitimate energy company in China," the spokesperson said. "As part of that joint venture, Hunter received his portion of good faith seed funds which he shared with his uncle, James Biden, and Hallie Biden, with whom he was involved with at the time, and sharing expenses."
The spokesperson, though, confirmed the payments: "The accounts so dramatically listed by Rep. Comer belonged to Hunter, his uncle and Hallie – nobody else."
Read the full article here