French President Emmanuel Macron continues to see massive resistance toward his pension reforms, which pushed back the age of retirement from 62 to 64, with some 800,000 people gathering to protest in Paris alone, according to local reports Thursday. 
Demonstrators clashed with police in what have been aggressive and even violent protests over the last several weeks as Parisians remain infuriated by Macron's changes to the French pension program.
Macron – whose government survived a vote of no confidence Monday after it pushed through the controversial legislation earlier this month – has argued the changes are necessary to keep France's social security program from going bust.
FRENCH PRESIDENT EMMANUEL MACRON WANTS CONTROVERSIAL PENSION PLAN TO BE IMPLEMENTED BY THE 'END OF THE YEAR'
But police on Thursday were still forced to resort to tear gas and the use of their batons after crowds of demonstrators turned on them in Paris.
Some protesters began throwing stones and launching fireworks at police officers on the Grands Boulevards thoroughfare, reported France24.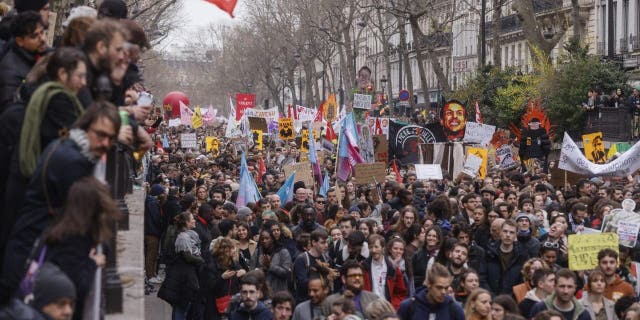 Some 250 protests also continued to take part across the country.
The demonstrations have caused massive disruptions across France with garbage and sanitation services ceasing work in a show of protest.
High-speed and regional trains, along with the metro, have seen scheduling disruptions, and some 30 percent of all flights out of Paris' Orly Airport have been canceled.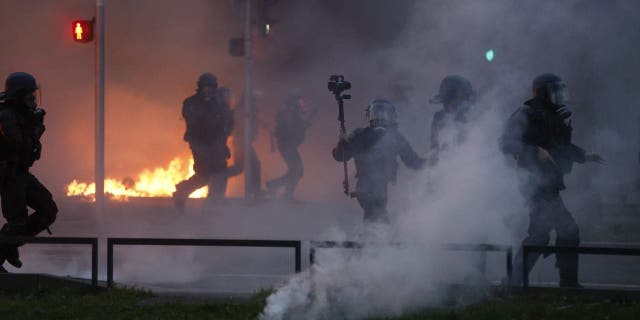 GARBAGE FILLS THE STREETS OF PARIS AS SANITATION WORKERS CONTINUE STRIKE AGAINST PENSION REFORM BILL
Top tourist destinations like the Eiffel Tower and the Palace of Versailles were also shut down Thursday.
Macron on Wednesday refused to budge on the legislation, which is now down to the Constitutional Council – France's highest constitutional body – to pass after it was pushed through the lower chamber of parliament and passed in the Senate.
But head of the moderate CFDT trade union, Laurent Berger, who opposes the pension changes, told the Associated Press on Thursday that the continued demonstrations are their attempts to tell the French government "we have to find a way out, and we continue to say that the way out is the withdrawal of the law."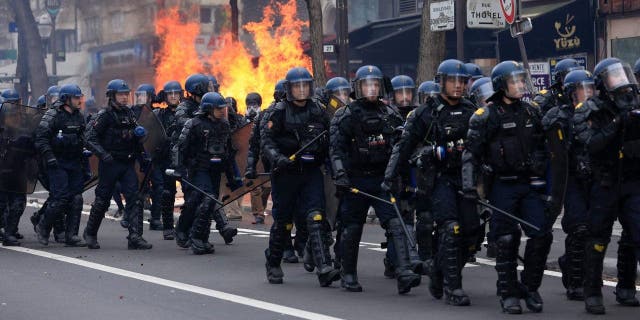 CLICK HERE TO DOWNLOAD THE FOX NEWS APP
Macron said that while the government must "listen to" the anger resonating from protesters, he still wants the pension changes implemented by the end of the year.
"Reform is not a luxury, it is not fun. It's a necessity for the country," he said Wednesday.
Some 12,000 security officers were spread across French streets Thursday, with 5,000 officers positioned in Paris alone.
Read the full article here