UNIVERSITY PLACE, Wash. – Jane Milhans said she still sleeps with the lights on sometimes, more than 15 years after two men broke into her house while she was home.
But she remembers being remarkably calm as the event unfolded.
"It was like adrenaline took over, and I just took command of the situation," Milhans said.
WASHINGTON GOV SIGNS BIG GUN CONTROL PACKAGE, INCLUDING 'ASSAULT WEAPONS' BAN: 'NO ONE NEEDS AN AR-15'
She remembers shouting at the two burglars she found in her kitchen. One suspect took off running out the sliding glass door, but the other froze and listened to all her commands until the police showed up about 15 minutes later, Milhans said.
She feels fortunate that she didn't have to draw the pistol her parents bought her for her 21st birthday, but its presence made her feel safer.
"It gave me the confidence of knowing that if they stepped any closer to me, I could protect myself," she said.
Now, the Tacoma-area firearms instructor dedicates 100 hours a year of her time to teaching gun safety and shooting skills to other women through free or reduced-cost classes. Business has been booming as more women buy guns.
"People kept asking me, can you please show me how to shoot so I can protect myself?" Milhans told Fox News during one recent training session. "From that home invasion, this is the good that came out of that."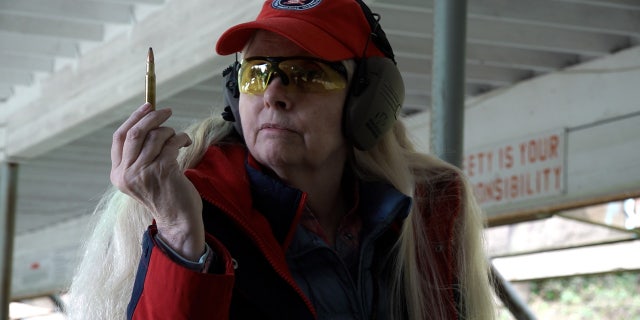 MOM SHOOTS 'BELLIGERENTLY' DRUNK MAN TRYING TO SET HOUSE ON FIRE WITH ELDERLY UNCLE, CHILD INSIDE: SHERIFF
The idea of owning guns for self-defense has plenty of critics.
A Harvard University analysis found people defended themselves with a gun in less than 1% of crimes from 2007 to 2011.
More recently, a Stanford University study of 17.6 million Californians found that people who lived with handgun owners but did not own a gun themselves died by homicide more than twice as often as their gun-free neighbors.
The difference was mainly fueled by homicides at home, especially those in which a victim was shot by a spouse or intimate partner, according to the research published last year. Women accounted for 84% of such victims.
"That's because most people who live with gun owners and don't themselves own guns are women," David Studdert, one of the study's lead authors, wrote in a Time magazine op-ed.
WATCH MORE FOX NEWS DIGITAL ORIGINALS HERE
Milhans has often found herself testifying on the opposite side of survivors of shootings and the family members of crime victims. Several years ago, survivors of the Las Vegas concert massacre gave emotional testimony in favor of gun control measures in Washington.
"I stand before you as a crime survivor today," Milhans testified in response. "I don't want to be a crime statistic. I want to be able to protect myself." 
She's not alone: 5% more women report owning a gun now than when she delivered that testimony, according to Gallup. Female firearm ownership is at its highest level — 22% overall — since Gallup started tracking the numbers in 2007.
Many women cite rising crime as their reason for arming up. One of Milhans' students decided to take the class after coming face-to-face with two car prowling suspects in her driveway.
"What can I do [against] two men?" Lisa Olson said. "Being a woman and not as strong, we need something a little stronger to help protect us."
Milhans said she wants to help as many women learn to feel more comfortable and proficient with guns as possible.
"We are easy targets," she said. "But at least a firearm levels the fight between us and our attackers."
Read the full article here