A photo circulated on Twitter of Washington Post columnist Taylor Lorenz posing without a mask with several celebrities at a gathering on Thursday. 
Actor Diedrich Baker posted a photo of himself at a dinner hosted by comedian Kathy Griffin with a group of eight people. At the center of the group appeared to be Lorenz.
"Thanks to @kathygriffin and Randy for a fabulous dinner and great conversation my daughter and i had an incredible time. I should have taken off my glasses for the picture," Baker tweeted.
After a comment asked Baker whether that was indeed Taylor Lorenz, he confirmed the columnist was there and spoke with his daughter.
CREDIBILITY CRISIS: WASHINGTON POST 'PERHAPS THE WORST' AMONG OUTLETS THAT DISMISSED COVID LAB LEAK THEORY 
"It is indeed! Super nice and smart. She was very sweet to my daughter which i really appreciated," Baker replied.
Prior to the photo, Lorenz has used her Twitter account to call out people who did not wear masks as "disappointing" and "depressing."
Lat year, Lorenz attacked the crowds of people who attended South by Southwest, a cultural event in Texas.
"Seeing everyone indoors totally unmasked and crowded together at panels, events, and parties at [SXSW] makes me sad, when will things be safe for those who are high risk and vulnerable to participate in events and conferences and events?" Lorenz said.
She also attacked the event itself for "plow[ing] ahead" despite "thousands of deaths still happening," and "high risk and disabled [people] still very much in harms way."
In October, Lorenz replied to a photo of a doctor appearing maskless at the American College of Emergency Physicians Scientific Assembly. In her tweet, she claimed to be "severely immunocompromised."
"As someone who's severely immunocompromised this is absolutely horrifying and disappointing to see. Stark reminder of all the medical professionals who don't care at all about keeping vulnerable patients safe from a raging deadly and disabling pandemic," Lorenz tweeted.
'VIEW' HOST MOCKED FOR SAYING SHE HASN'T GONE GROCERY SHOPPING IN YEARS DUE TO COVID: 'PLEASE GET HELP' 
Replying to her colleague Helaine Olen, Lorenz called her tweet calling out people "too afraid to leave their homes because of Covid" as "absurd."
"What an absurd, insensitive thing to post. Thousands are dying per week, millions are disabled & we have zero effective drugs that prevent infection. Immunocompromised ppl don't deserve condescending comments abt being "too afraid" of a virus that can kill or severely disable us," Lorenz replied.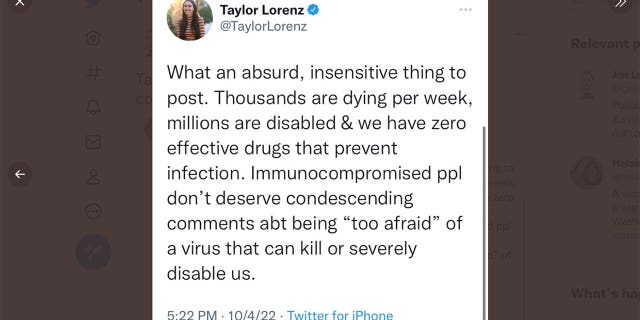 Some Twitter users joked about the image, calling out Lorenz on her apparent hypocrisy.
Habibi Bros podcast co-host Siraj Hashmi joked, "why is @TaylorLorenz inside with other people, not wearing a mask, not social distancing, and not showing both her negative COVID test and proof of vaccination? Taylor Lorenz should be tried for mass genocide as she's literally killing millions of disabled people."
Hashmi's co-host Ahmed Al Assliken agreed, "@TaylorLorenz hanging out with people indoors without a mask? I thought this was reckless?… thought this was literally going to kill anyone and everyone with long Covid…"
"Oh look its long covid, immunocompromised and disabled reporter @TaylorLorenz hanging out indoors with no mask on!" New York Post reporter Jon Levine tweeted.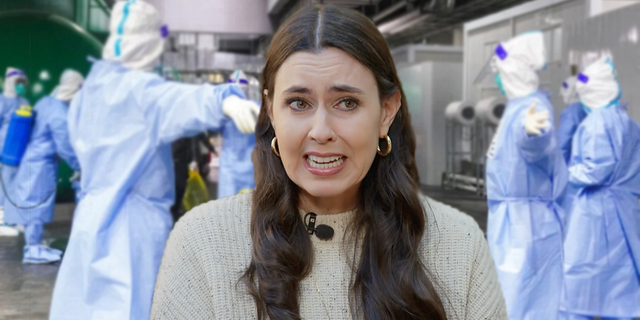 In a later comment, Baker replied to a user who tweeted, "I am literally shaking. Just hope you all put your masks back on after this photo was taken."
"We all tested negative so we could make out during dessert," Baker joked.
Lorenz did not respond to Fox News Digital for a comment.
Read the full article here